Waking up to the dawn of new age of technologies, almost all of us check our phones first. This is what we have become addicted to and have become accustomed to. Cell phones and digital assistants have revolutionized their existence way more than any other technology in our world. We wake up and check our phone and see a storm of videos and music and photos coming out of our screens. What do we do with all those movies and videos? We download some of them while others go missing. And in this age of information, we cannot just miss any informative video.
So what do we do to get all the amazing videos in our cell phones? Downloading them is a good option but how? Sometimes it's easy as some of the apps we use have a built-in downloader in them, while others do nothing to catch up with our particular need.
While using our PC we can download just any video from any portal. In our smartphones, we don't have that option of downloading just any video. For a brief review today I am listing down 12 best android video downloaders. These video downloading apps are totally free of cost and they can be downloaded from google play store anytime.
FVD – Free Video Downloader
FVD or Free video downloader is top of the line app that you must have if you are a video freak. Using this app you can just download any video that pops up on your mobile screen. This app can help you download any video at a very high speed. An incredible app that comes with a lot of options and a user-friendly interface. Its functions are very simple, when you are done with downloading and installing this app, just go to any site where you see videos most often, and the app pop up will come up with the option to download the video. Remember this app works on all sites except for youtube.
VidMate
Not the most popular but the most used application on android phones. This app comes with many amazing features, that includes downloading videos in any resolution you like and for your surprise, this app can also download videos and movies from youtube. VidMate is not available on google but you can download the APK file from their official site. This app comes with more features than any other in the market at the time. Having a very simple and colorful interface, this app has a built-in Youtube and web browser.W ith more than 10 built-in video platforms, you can have the liberty of downloading any video.
AVD Download Video
Compatible with almost every android and IOS phone, this app is full of amazing features. Some basic features like video downloader are available for free while some are available in premium version only. The ads are very annoying when you are using the free version, but you can get rid of them if you buy a premium version. Premium version is not that expensive and also enables you to download videos from 7 additional platforms. This app is very easy to use, a pop up emerges when you play any video and that gives you all the necessary option to download the video.
Tube Mate
One of the oldest among its competitors this video downloader is still young with its updated features. Like many other apps, this is not available on Google Play, you have to get this downloaded from their official site. Compatible with both Android and IOS cell phones this app also allows you to download videos from Youtube. It can help you download videos at HD quality with good speed. If you are downloading these videos for mobile view only, you can download them even faster. It can regulate the download speed automatically, and you can also regulate it manually, depending upon the quality of the video.
HD Video Downloader
Its very clean interface and the fact of supporting many video formats are some of the aspects that have caught the attention of HD Video Downloader. In addition, you can store them directly to the SD card of your smartphone in just a couple of seconds. The download can be made directly from the browser without having to leave the page, so you can continue browsing and downloading hundreds of videos daily.
Video Downloader
An "all in one" very practical for those who do not resist image, audio track or any video available in the network of networks. Any multimedia file will be ready to download through Video Downloader, which at the same time, will allow you to listen directly from the download list. When you do not have an internet connection, you will be able to find the downloaded material in the storage card of the phone.
TubeMate YouTube Downloader
Our ideal companion to navigate YouTube. This application is simply great, not only because it allows us to download the videos easily and quickly, but because it incorporates a series of preferences, such as selecting the destination folder for your downloads or choosing the quality of the video. If you want to extract the audio from the video, it's not a problem either, Tube Mate YouTube Downloader has everything to please your tastes.
Easy YouTube Downloader
In themes of navigability, Easy YouTube Downloader takes all our votes. The experience of this application offers us the advantage of obtaining in a few seconds the most voted videos of the moment, the most commented and the most popular. If you wish, you can also set a custom search and use YouTube filters as upload date or video size. To download, simply click on the desired file and ¡Ready!
MediaTap
MediaTap is designed to download all kinds of content, especially multimedia, from the internet to your smartphone. You can place the link of the content to download or try your luck with the integrated search engine. For legal reasons, it does not allow downloading YouTube content.
YTD YouTube Downloader
If you are only interested in downloading video or audio from YouTube, you may want a simple app like YTD YouTube Downloader. It serves to save videos to extract the audio. Integra search engine to avoid having to enter YouTube although you can use the official app and when you find a video to download, click on the share button and choose YouTube Downloader. The app is very simple but allows you to choose the quality of the video and convert the audio to MP3 or download it directly in AAC or OGG.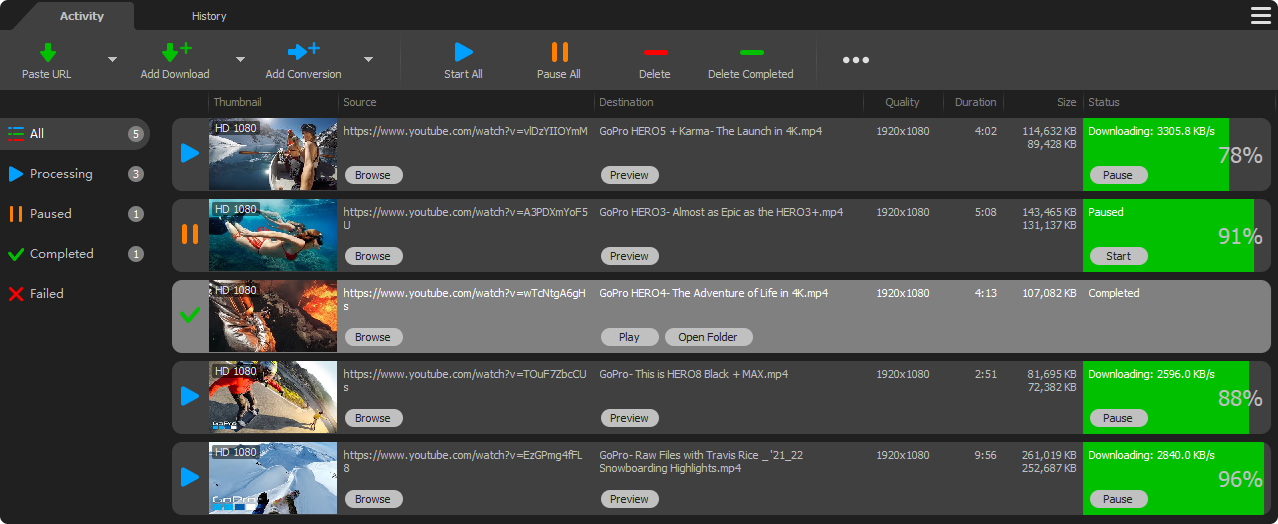 SnapTube
Going back to off-road apps to download videos on Android, SnapTube will help you save audio and video from pages like YouTube, Facebook, Instagram, Vimeo or Dailymotion, searching by keyword or indicating the link. You can download the video to the desired resolution, as well as leave the video and download the audio directly to MP3.
Hope you like our list of 12 best android video downloaders. We hope you have a great time using them. Don`t forget to share your experience below in the comments.