You will need a dedicated PDF reader to help you not just to open a document but for so many things such as for merging several PDFs, extracting images, converting into different formats, or even splitting them into individual pages. There are a lot of free PDF readers available that will do straightforwardly all these things for you.
Once you are done with the installation of a new PDF reader, it will show you a prompt asking if you'd like to make it your default PDF reader. I recommend you to leave things as they are until you've had a chance to try the new reader and see if it's the right PDF reader for you.
If you're satisfied with the performance then you can make it your default PDF reader and for that, you will need to right-click one and select with 'Open with'. Browse to the EXE file for your new PDF reader, check the option 'Always use the selected program to open this kind of file' and after that click 'OK'.
Although PDFs are over 25 years old they are still one of the main types of documents available on the internet. If you're trying to access your W-2, an eBook, or a contract, you will probably find that in the form of a PDF. But the important thing to keep in mind is, finding PDFs is easy but you will need a PDF reader that can help you to view the document to read.
There plenty of PDF readers available and some can cost you almost a thousand dollars yearly, so we have done the research work for you to save your time and avoid this hassle. Read the article till the end to find the 9 best free PDF readers 2019 that you can download online.
Below, we created a list of 9 of the Best free PDF Readers 2019 all varies in term of compatibility ranging from only viewing PDFs to creating, editing, even securing them.
9 Free PDF Reader Software for Windows [ 2019]
You will find plenty of PDF readers online but choosing the best and right PDF reader that is appropriate according to your requirement is not a very easy task. And for that, you need to know about the available options. So, we are sharing with you the best software available for viewing and reading PDF documents to help you decide which one's best for you:
1. SumatraPDF
An open source and lightweight PDF reader software, SumatraPDF is an amazing PDF reader that you can install and use on your Windows computer. It is licensed under GPLv3 license and supports formats other than PDF as well, the other formats include EPUB, FB2, MOBI, CHM, DjVu, and XPS.
As said above that this is the free and best PDF reader as it is very light and its 64-bit installer is just about the size of 5MB. If you're looking for a PDF reader software that can deliver an amazing reading experience with quality performance and basic features then SumatraPDF is the best option for you to go with. However, it lacks advanced features like document signing, annotations, and form-filling.
Various keyboard shortcuts are supported by this PDF reader to help you navigate easily and improve your reading experience. It also comes with easy previewing of LaTeX documents and can help you configure different text editors to integrate Sumatra.
Website: SumatraPDF
Supported platforms: Windows 10, 8.1, 7, XP
2. Adobe Acrobat Reader DC
If you are in search of a more powerful program to read PDF files, then you should consider using Adobe Acrobat Reader. It is not very common to come across a PDF file that demands an advanced PDF reader.  If you are familiar with the fillable forms yes, I am talking about them here that you can't take care of through a standard PDF reader software for Windows. This software is still the recommended PDF solution for most of the tasks.
You might find this software a bit heavier as compared to SumatraPDF, it turns out to be more useful when all the other solutions fail. With this software you can read PDFs in different modes, adding notes, filling forms, text highlighting, add stamps, digital signatures, etc. This free PDF reader for Windows also supports the tabbed view that means that you can now open multiple PDF files at the same time.
So, if your needs aren't very simple, means you don't just want to read PDF files, and you need advanced features then Adobe Acrobat Reader DC is the best choice for you to go with. One more thing about this PDF reader is that this is the best PDF reader for large files that some lightweight programs are unable to process.
Supported Platforms: Windows 10, 8.1, 7, XP
Website: Adobe Acrobat Reader DC
3. Your web browser
If you are looking for a PDF reader that can help you to view PDF files and you are not very much interested in advanced PDF reader software for Windows then you don't need any dedicated PDF reader software.  Your web browser like Google Chrome, Edge, Firefox, or Opera come with integrated PDF readers. So, they are a part of your web browser and also gets updated regularly with new features along with your browser.
The moment you click on a PDF link, the web browser starts opening the PDF file on its own and provides you an amazing clutter-free reading experience. All the browsers permit you to utilize features such as adjustable text size, download, rotation, and printing. Just in case if you want to open locally stored PDF files through your web browser the what you need to do is simply drag the file into an open browser window to open the file and enjoy your reading. Other than that, you can also right-click on the file to choose your browser using the "Choose Another App" option. So, if you want a dedicated PDF reader because of you occasionally open PDf files then your web browser is the best PDF reader you can get.
Supported platforms: Windows 10, 8.1, 7
4. Nitro Reader
Nitro Reader is another amazing PDF reader and I personally like this free PDF document reader as it tries to strike the perfect balance between its features and usability. The software is not filled with unnecessary features that one never uses. Its interface is very slick and looks like just any other application from Microsoft's Office suite. Other than the basic features, Nitro Reader comes with a handy QuickSign feature for digitally signing documents. With this software, you can easily secure your documents and make sure that the documents are opened by the people who've received a digital certificate from you. So, if you are looking for a no-nonsense PDF reader then this something you will really like.
Website: Nitro Reader
Supported Platforms: Windows 10, 8.1, 7, XP
5. Foxit reader
If you're looking for a free yet amazing PDF reader for Windows 10 or even older versions of Microsoft Windows then your search might end with Foxit reader. Similar to Adobe Acrobat Reader DC, Foxit is also a very popular name in the world of document readers. Foxit is much lighter as compared to Adobe's PDF reading. Its website is designed very nicely and it doesn't try to ship extra bloatware to your PC. However, it does try to install Foxit PhantomPDF editor's 14-day trial during the process of installation, so keep an eye on that during installation.
With its recent release which took place in 2016, Foxit also introduced its new online ConnectedPDF Document Management System. the text viewer mode of Foxit reader removes complex formatting and displays a plain Notepad-like view of the file. The collaboration features further improve your PDF experience by not just reading but letting you work online and share your work with others as well. It's advanced software to help you read your PDF files, and it comes will all the necessary features.
Website: Foxit reader
Supported platforms: Windows 10, 8.1, 7, XP
6. Slim PDF
Similar to SumatraPDF, Slim PDF is another lightweight PDF reader for Windows OS. It calls itself the world's smallest PDF reader for desktop. We are not sure about the validity of this claim, but its download size is of just 1.43MB. So, if you're looking for a very small size PDF reader for your old computer, then Slim PDF is for you to go with.
As we can expect that this good, light and free software for reading PDF files is only focusing on reading, viewing, and printing your PDF files. It loads the document very quickly and lets you complete your job in less time. Keep in mind that it doesn't support many popular keyboard shortcuts, so don't get disappointed for that. Also, it does not allow you to highlight the text word by word. Anyways, it's a portable PDF reader software that will work for you.
Website: Slim PDF
Supported Platforms: Windows 10, 8.1, 7, XP
7. Expert PDF Reader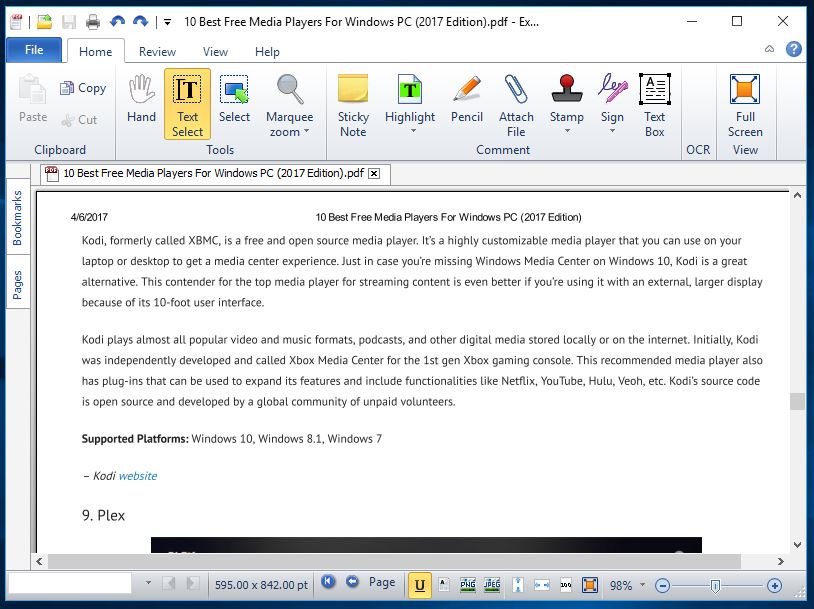 Expert PDF Reader is another free PDF reader software for Windows that you can easily download and view your PDF files. It comes with a new interface and includes all the necessary features. You can add notes, create a text box, highlight the text, etc. it also has the facility of creating custom stamps and manage them afterward. The signature feature is also included in Expert PDF Reader software.
Website: Expert PDF Reader
Supported Platforms: Windows 10, 8.1, 7, XP
8. Javelin PDF Reader
Our second-last entry on the 9 best PDF readers list is Javelin PDF Reader. This software comes with all the basic PDF reading functionality that you might need to complete your daily chores. Its interface is super clean and it helps you to choose from most of the common reading modes like full screen, side by side, continuous, etc. compared to the likes of Foxit reader and even Adobe Acrobat Reader DC, Javelin is pretty lightweight super easy to go with.
Website: Javelin PDF Reader
Supported Platforms: Windows 10, 8.1, 7, XP
9. PDF-XChange Editor
PDF-XChange Lite is a free PDF reader available for Windows 10 that has been completely revamped and even more simplified now. This software takes very less time to open and provides a lightweight experience for reading, annotating, printing, saving images and text, etc. from a PDF file. Other than that, the software was formerly known as PDF-XChange Viewer and it didn't have the basic editing functions available for free.
Website: PDF-XChange Editor
Supported Platforms: Windows 10, 8.1, 7, XP
Final words
That was the list guys. Do check all these options of best PDF readers and then choose the one that best suits you according to your requirements.
Till then take your reading experience to another level with the help of these PDF readers as we will be back soon with another interesting topic to share with you.
And lastly, feel free to mention your thoughts in the comment section.
For more information: Visit ATechGuides